Our Veterinarians
Linda Mar Veterinary Hospital is proud to offer an extensive selection of veterinary care services to residents of Pacifica, CA. Our team of highly trained, professional veterinarians is dedicated to the health and wellness of pets. With years of experience and a commitment to ongoing training and development, you can count on our veterinarians to always provide care that is compassionate and informed.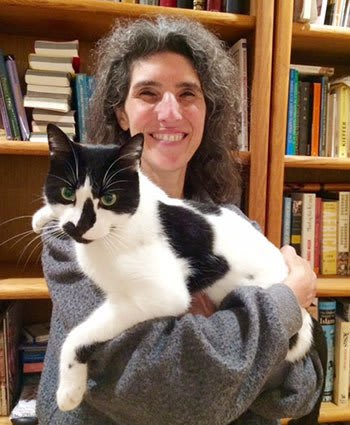 Dr. Angelique Cucaro
Dr. Angelique Cucaro has been practicing integrative medicine since becoming certified as an acupuncturist in 2010 through International Veterinary Acupuncture Society (IVAS) and has been certified as a member of the American Board of Veterinary Practitioners (ABVP) since 2003.
She has been a veterinarian since graduating from UC Davis School of Veterinary Medicine in 1989. Following graduating, she pursued a small animal internship at Santa Cruz Veterinary Hospital from '89-'90. The following year, after having received a Rotary International Scholarship, she spent time at the veterinary school in Maisons-Alfort, just outside of Paris where she interacted with professors and veterinary students and perfected her command of the French language.
In addition to working at several emergency clinics in the Bay Area, she was a volunteer veterinarian at Wild Care, a wildlife rehabilitation center in San Rafael from '92-'98.
Since 1992, she has worked full-time at Linda Mar Veterinary Hospital in Pacifica as a senior associate where she has been able to combine Western medicine and surgery with an Eastern approach. She found that by integrating holistic medicine and acupuncture allowed for more successful management of both acute diseases and chronic conditions, especially in geriatric pets.
She also routinely does abdominal ultrasound after having successfully completed an internship at UC Davis in ultrasound in 2001 – 2002 through the Don Low – CVMA Fellowship.
In her downtime, she enjoys the companionship of her wonderful husband, Yann and her delightful daughter, Katia and their naughty cat, Zefer. In addition to trips to visit family in France, she appreciates the beauty of the Bay Area and loves attending opera, tackling new recipes, birdwatching and painting.
Dr. Maria DePunzio
Dr. Maria DePunzio received her Doctor of Veterinary Medicine degree from the University of California at Davis. Although Dr. DePunzio's emphasis was on canine and feline species in veterinary school, she also received a prestigious fellowship in large animal medicine and surgery and served as part of the clinical instructor team in equine medicine and surgery at UC Davis.
Dr. DePunzio has practiced general canine and feline medicine and surgery in the Bay Area since graduation from veterinary school in 1999. During this time, she developed a reputation for being knowledgeable in rabbit medicine and surgery, having worked side by side with experts in the field. She is proud to be a recommended rabbit veterinarian by the Alameda House Rabbit Society, an organization devoted to the education of people regarding the health and welfare needs of rabbits, and does her best to serve the needs of other "pocket pets" as well.
In addition to her full-time position as Managing DVM at Linda Mar Veterinary Hospital, Dr. DePunzio also serves part-time as a Veterinary Hospital Inspector as and Export consultant for the California Veterinary Medical Board, as well as Adjunct Professor in the Veterinary Technology Program at Foothill - DeAnza College.
Dr. DePunzio grew up in Michigan and also lived in Washington, DC, and Florida. Her parents are from Switzerland and Italy. She came to California to pursue her Bachelor's degree in the Political Economy of Natural Resources at UC Berkeley. Prior to veterinary school, she had a career as a Senior Energy and Environmental Analyst with the State of California and concurrently earned a Master's degree in Business Administration at San Francisco State University
Dr. DePunzio has a variety of personal interests and speaks fluent French. When she is not in the clinic, she spends time with her family, enjoys gardening and the outdoors. She has three cats named Bugs, Chelsea and Wilson and a sweet Golden Retriever named Charlie.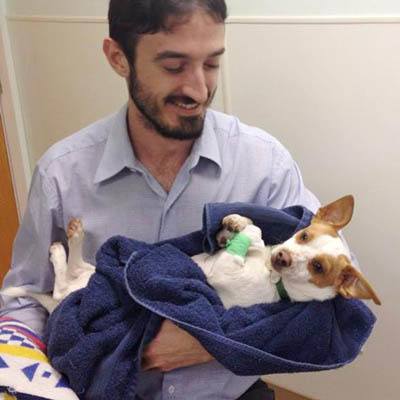 Dr. Brandon Wilson
Originally from San Diego, CA, Dr. Wilson attended veterinary school at U.C. Davis, CA where he graduated in 2009. He completed his rotating internship in 2010 in the Santa Rosa, CA area. He moved to the Bay Area in 2012 when he joined Linda Mar Veterinary Hospital . Dr. Wilson is a small animal general practitioner with a passion for surgery. He currently resides in San Francisco and likes to spend his spare time weightlifting, reading, hiking and running.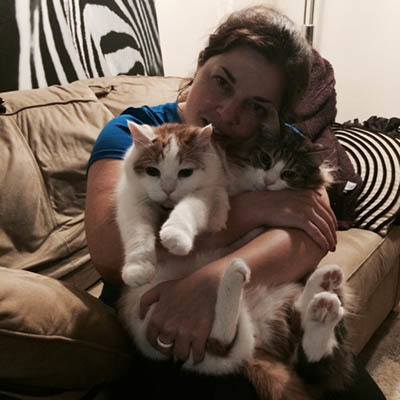 Dr. Thea Couture
Dr. Thea Couture is originally from Canada and completed her undergraduate degree at the University of British Columbia. Following graduation she relocated to Sydney, Australia, and completed her veterinary degree in 2009. She then moved to Fremont and worked at a small animal practice before joining Linda Mar Veterinary Hospital in 2014.
Dr Couture is a small animal general practitioner interested in many areas of medicine and surgery, in particular feline medicine.
In her spare time, Dr Couture enjoys traveling, going to the gym, and spending quality time with her two cats, Audi and Porsche.
Dr. Kate Mezan
Dr. Mezan grew up in New York. She moved to the Bay Area to attend Stanford University for her undergraduate degree. Craving on international adventures, she spent 5 years in New Zealand where she obtained her veterinary degree at Massey University. She is thrilled to to be back in California where she lives in Pacifica with her husband, two daughters, a dog, a cat and a couple of chickens. Dr. Mezan has special interests in internal medicine and dermatology. Her hobbies include gardening, horses, wine and child wrangling.